by Lisa Tan
October 29th, 2019
How are you going to celebrate Halloween this year? At a simpler time you might just get to dress up and eat a lot of candy. Now we've got you eating candy, drinking alcohol, and by the end of the night it's likely that you witness something disturbing (children in bloody costumes), offensive (adults in racist costumes), or unpleasant (frat boys in any costumes). Still, I think we can choose to celebrate Halloween as a time for unique expression and creativity. It can be a day to have fun with our identities, connect with one another, and dress up our pets in adorable outfits.
Any other time of year this level of fascination with death can look pretty morbid. But it's not so strange that we are excited by the chance to unpack something taboo and explore how horror helps us to address our fears, the real ones that exist beyond the ghouls and zombies. What are we really afraid of? There is a certain appeal to the mythical, the unknown, and the unsettling that we want to be free to think about, discuss, and even wear on our bodies- we need a night to be silly and strange, shed our adult, normal and clean, socially acceptable daywear. There is real fear in the shame-inducing oppressive way we are asked to not express this intrigue; the horror is an outlet, a safe place to get close to things we otherwise could not. 
So on Halloween this year, we can love all the weird stuff, the thrill and the costumes and the food. We can be renegades, conjuring subversive ideas about the "unknown," and boldly explore those that disturb the status quo. We can be community members that knock on our neighbors' doors, share our eccentricities and our candy, and here in this space we create, we can talk about ways that our interactions every other day can learn something from these ones. 
Ok but what about the cookies?
I'm obsessed with "themed" things and "spooky and socialist" is my new favorite theme, so I've designed some cookie cutters for you to make your own spooky socialist sweets to share with your comrades this season. 
I love decorating baked goods but I'm too busy writing this article to hand ice a bunch of cookies so I'm going to share my super easy method for skipping that step: cookie cutters! 3D printing is an inexpensive and accessible way to make custom objects like these. All three files for the cookie cutters can be found at this link and are free to download.
Where to use a 3D printer
Public libraries and makerspaces can be a source of accessibility to the tricks and treats of production. If you're a Clevelander, here are just a few of your options for getting your cookie cutter files 3D printed:
Tech Central Makerspace

at Cleveland Public Library (

3D Printing Information

and

Policy

)
If you have or sign up for any CLEVNET library card, you can submit your .STL (stereo lithography) files via e-mail or bring them to the library on a flash drive.
Innovation Centers at the

Garfield Heights

,

Parma-Snow

and

Mayfield Heights

branches of the Cuyahoga County Public Library 
If you have or sign up for a library card with the Cuyahoga County Public Library, you can fill out the 3D Print Request Form to submit a print. Make sure you specify the orientation of the print: cutter side facing up, text backwards from top view. 
think[box]

at Case Western Reserve University (

3D Printing Information

) 
Think[box] provides community access to the 3D printers themselves, as well as detailed steps on how to go through the process on your own (Ultimaker 2+ Tutorial). If you want to get hands-on and learn a new skill, I highly recommend this option. They have several desktop printers available for walk-in visits. Just look over the tutorial and bring your file to the makerspace! Student workers are available to help if you have questions. 
Hive

at Lakeland Community College 
If you live northeast of Cleveland you can check out the makerspace at Lakeland Community College. Follow this link to schedule a training session with a staff member or reserve some time to use the equipment where you can specify which machine you'd like to use. 
All of these options are free to use and require only a material cost of $0.05 – 0.15 per gram. The cookie cutter designs provided should come out to around a $1 each.  The models should not require any support material, so be sure to rotate them on the build plate so they are laying flat with the cutter side facing up (the text will appear backwards). This ensures there are no overhanging parts. If you are ordering the print, specify these details in your order. The cutters are designed in millimeters, so convert if necessary.
For prototyping purposes, we can print using PLA, though it is not considered food safe due to potential material degradation. To ensure your 3D printed object will withstand extended use in the kitchen, take a look at this FormLabs blog post for more info on food-safe printing specifications. 
Lastly, if you're having fun and want to 3D print all your stuff from now on, Thingiverse is a site that offers all kinds of open-source user-designed files for 3D printing.

Here's the cookie recipe!
1 ½ cups softened butter or coconut oil
2 cups white sugar or 1 cup honey
4 eggs 
1 tsp vanilla extract
5 cups all purpose flour (or gluten-free flour substitute)
2 tsp baking powder
1 tsp salt
Cream together butter and sugar. Beat in eggs and vanilla. 

In a separate bowl, whisk together the flour, baking powder and salt. 

Slowly add dry ingredients and mix until combined. 

Cover and chill for at least one hour. 

Preheat oven to 400 degrees F. Roll out on a floured surface until about ¼ inch thick. Cut with cookie cutters and place on a lined baking sheet 1 inch apart. 

Bake for 6-8 minutes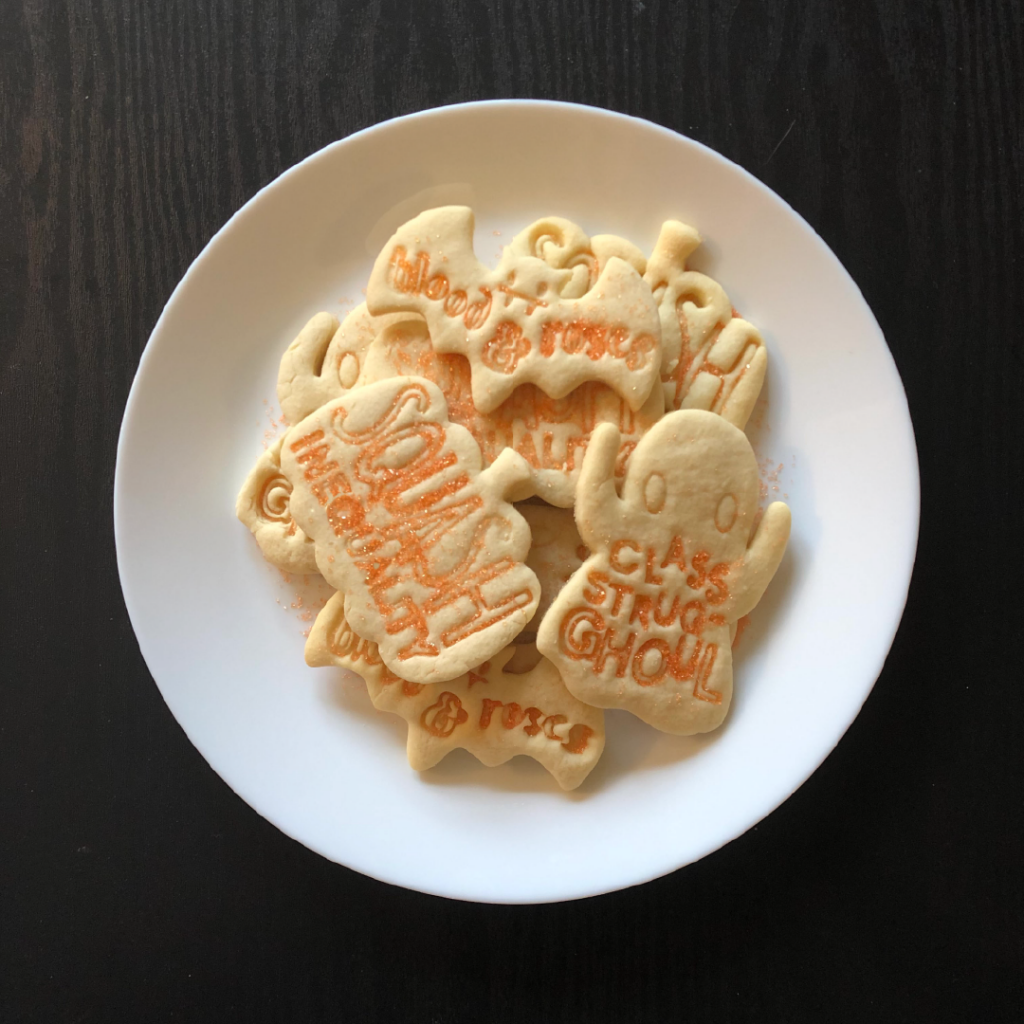 That's it! Happy Halloween, everyone! I will be bringing a batch of these soli-scare-ity cookies to our next general meeting on November 7th, so come join us to learn about current organizing efforts in Cleveland and how you can participate. Members and non-members welcome!
If you are a DSA member interested in contributing to the blog, send an e-mail to messaging@dsacleveland.org. You can also follow our chapter on Facebook, Twitter, or Instagram, or subscribe to our newsletter to stay updated with the blog.