The Kratom Boys are coming to Cleveland! Street Fight Radio is the #1 anarcho-comedy radio show in America, broadcast out of WCRS Columbus for the last 6 years. Hosted by Bryan Quinby and Brett Payne, they will be performing a live show at Mahall's in Lakewood with special guests Rob Whisman (@robwhisman) and Eric Peacock (@UweBollocks). Cleveland DSA will be there with a table and literature, and will also be interviewing the Street Fight boys for our upcoming regional magazine.
---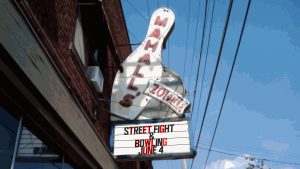 Join Cleveland DSA at the show!
Meet comrades from Akron DSA and Portage Co DSA!
Sunday, June 4, 8:00pm-12:00am
Mahall's 13200 Madison Ave, Lakewood, OH 44107
---
Street Fight Radio brings genuine working class commentary, fighting for a more egalitarian world through the power of hating your boss and making cops pick up trash. And unlike those jabroni jobbers Mike Rowe and Larry the Cable Guy, Street Fight Radio are the real deal.
Come for the show, stay for the bowling and beer afterwards!
Tickets: $10 for show or $25 for show + bowling. Available at: http://squ.re/2rmeUUt