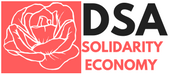 The goal of the Solidarity Economy Committee is to affect fundamental system change. We focus on the economic sphere in our efforts to facilitate this.
A solidarity economy is based on efforts that seek to increase the quality of life of a region or community through not-for-profit endeavors. It mainly consists of activities organized to address and transform exploitation under capitalist economics and the large-corporation, large-shareholder-dominated economy, and can include diverse activities. It refers to a set of strategies and a struggle aimed at the abolition of capitalism and the social relations that it supports and encourages.
Below are some examples of aspects of solidarity economy grouped under two of it's main categories.
Address and transform existing exploitation; direct action responses to the economic injustices that result from capitalism.

Tenant rights campaigns
Urban Agriculture
Tail Light Repair Clinics

Abolish capitalism; support organizations with radically alternative structures

Worker Cooperatives
Housing Cooperatives
Food Cooperatives
If this sounds interesting to you, please come to one of our meetings.
If you're interested in updates on our work click here to be added to our contact list.
We can be contacted at: solidarityeconomy@dsacleveland.org