"I recognize at the outset that there's some irony to a non-coffee drinking Mormon, conservative, defending a Democrat candidate for president, and perhaps one of the most liberal companies in America."

— Senator Mitt Romney to former Starbucks CEO Howard Schultz, as the latter testified before the Senate in March 2023
"No that's the bottom line, it's all a big smokescreen. This movement has become so capitalist. It is a capitalist movement. I see this movement becoming a straight-gay movement, that only believes in that almighty dollar. Now what kind of logic is this?"

— Sylvie Rivera, interviewed at Pride in 2001
This weekend Starbucks workers went on strike in Cleveland, part of a week of 150+ stores protesting the removal of Pride flags from shops nationwide. Partners struck at the newly unionized Strongsville location and in Crocker Park. With the Summer weather, turnout at both stores was excellent. For the first time in a while, stores failed to open altogether, with management apparently not mustering enough scabs to make the attempt. Overworked baristas and their allies celebrated their victory, playing music, chanting into our many megaphones, fanning ourselves with cardboard signs, chatting with supporters. A resident from the Crocker apartments brought several boxes of popsicles (and a dog!) to the picket line. Spirits were high as the baristas turned away a full-day's business during a major holiday weekend.
Community support was strong. The Amalgamated Transit Union, Workers United staff, former Starbucks workers, supporters of the One Fair Wage ballot initiative, and, of course, DSA members, all came together for the Crocker picket. From all reports, the Strongsville Starbucks on Royalton Road held a great picket as well. There community support included a strong DSA contingent as well as Teamsters, Building and Construction Trade Council workers, the Postalworkers, Machinists, Steelworkers, and the working class superhero from Queens, Spiderman, who is a longtime supporter of the union movement.
When Crocker Park's Starbucks Workers United (SBWU) crew joined the struggle last November, things were beginning to drag. Union representation had been won at several stores, but the fight had clearly shifted from exciting first waves toward a longer and more difficult battle for a national contract. It is not clear that all bargaining units would survive decertification1 votes. The shape of Starbucks criminal unionbusting strategy was revealing itself. Partners braced for a long battle of attrition with management. In the service sector such battles are particularly vicious, as employers often have a great deal of power over scheduling. Partners found they simply weren't getting shifts anymore, or were being scheduled for less hours than they'd need to retain benefits. Cleveland DSA, as a small part of its Labor Solidarity campaign, has tried to bridge the gap, holding concerts and Drag shows to bolster the Starbucks Organizers Support Fund (which you can donate to here!). Yet needs are always mounting, and as Cleveland SBWU grows so too do the number of workers needing to make rent every month. In this context, Crocker partners' energy, cleverness, militancy, and sense of humor were badly needed. They rejuvenated our chapter's Labor Solidarity Campaign at the start of a long winter, and have consistently ensured Cleveland SBWU stores were represented in national strike efforts. We've been honored to join them at the picket line over and over again, in much colder, rainier weather. Partners know we'll be happy to picket all Summer long if Starbucks continues to bust the union. Compared to the organizers on the shop floor, our job is easy!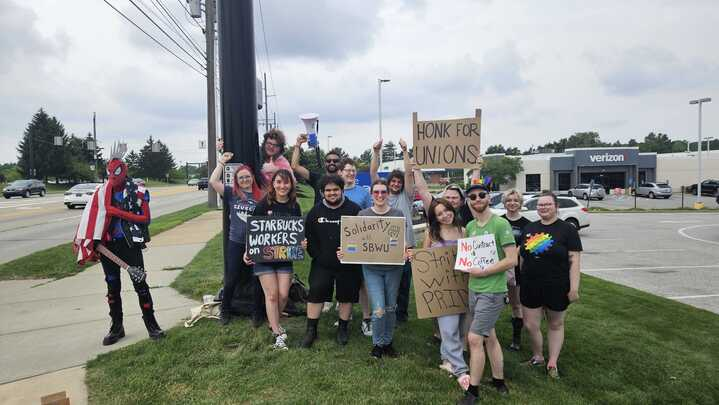 My fellow DSA members were surprised when Starbucks took down the Pride flag at the Clifton location. It's not unusual to see flags go up at urban cafés during Pride month. Clifton Starbucks has had their flag up all year, for years. Resting as it does in Edgewater, a historic gay neighborhood in Cleveland, with one of Cleveland's most popular gay bars just next door, there is nothing risky or unusual about this display of community. It is well within the local mainstream. Taking it down only served to anger workers and alienate locals. When I learned this was a deliberate, national decision, rather than a ridiculous error by an incompetent local manager, I was floored.
Socialists often see these sorts of pride displays as hollow corporate PR, yet another variant of "pinkwashing" to launder capitalist politics into the progressive movement. But in this case, and many others, I believe this was an earnest expression of community by the workers there, merely tolerated by corporate. Starbucks has confirmed as much, if only in retrospect, by forbidding workers from displaying their flags. The argument that this decision was solely a capitulation to political backlash against gay rights, while probably true of some companies, just doesn't ring true for Starbucks. The vast majority of Starbucks customers are, at worst, perfectly willing to ignore a Pride flag. Where backlash does exist, "wokeness" controversies have long served as free advertising for companies, forcing their brands to the center of a national discourse. Strategically, attacking Pride only illustrates why gay and allied partners need a union, just one more thing you'd use a union for. Why would Starbucks attack their largely progressive workforce like this in the middle of a sensitive unionbusting campaign? If they are hoping to win workers over from the union camp, this is no way to go about it!
There was no need for confusion. Starbucks has been abusing partners across Cleveland however they can since at least the moment they began to stick up for their rights as workers. Their plan isn't to win workers over with reasoned argument or high minded concessions, it is to crush their spirits and replace them with more compliant workers. Many of our friends face this abuse every time they clock in. Corporate has thoroughly replaced those managers willing to comply with labor law, those few who respected their workers enough to oppose criminal union busting, with the nastiest people in our cities. If this campaign of abuse destroys stores in the process, they don't seem to care. Removing the flags is just one more way to attack their workforce, and Starbucks is taking every opportunity.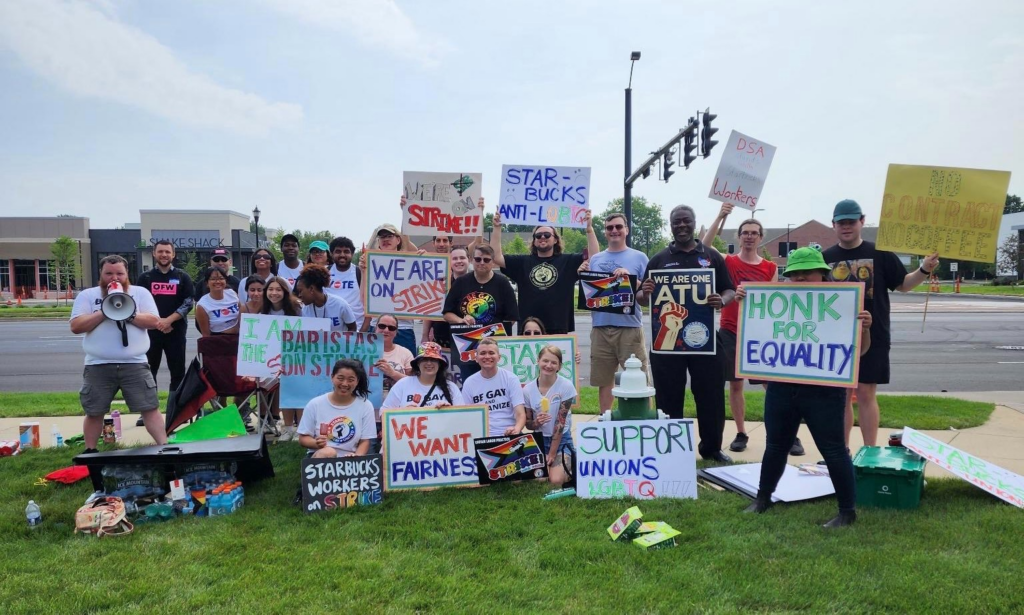 This is part of how Reaction will look as the fringe right desperately tries to reverse the culture shift in our country. We will see assaults from elites, even from "the most liberal companies in America", on gay people. We'll see it where the vast majority of gay people spend the majority of their time, and where they are most vulnerable to the whims of bigoted elites: at work. We'll see it silently, every day, in non-unionized workplaces across the country, and then loudly, for years, when gay workers and allies straighten their backs and say no.
Corporations will continue to appropriate LGBT iconography for years to come, but new lines are emerging between this and more genuine bottom up expressions of Pride. A city as close as Columbus has, for years now, held a parallel "Community Pride" to break with the pro-police politics of the liberal funders (basing its finance instead in fundraising and in local black businesses). This country is nothing like it was in the 2000s, socialists should not underestimate the importance of the culture shift on gay rights. But the degree of organization and independence of the working class LGBT community has still not recovered from the AIDS crisis. Cleveland Pride's funders have just put on a much needed celebration, but we must remember 2016, when, "because of the changing social climate," Cleveland Pride was called off altogether. This was a decision "the movement" had no say in, and is what we earned by putting our festival in the hands of a private Board. "Progressive" corporations and their community partners cannot and have no intention of defending us when things get hard. There is a desperate need for queer people to learn how to organize, so we can rebuild a Pride that is based on our own power rather than on the good graces of capitalists, the whims of nonprofit boards, and the support of the state. It was not Target that brought about the culture shift on gay rights in our country, they merely reflected it back at us.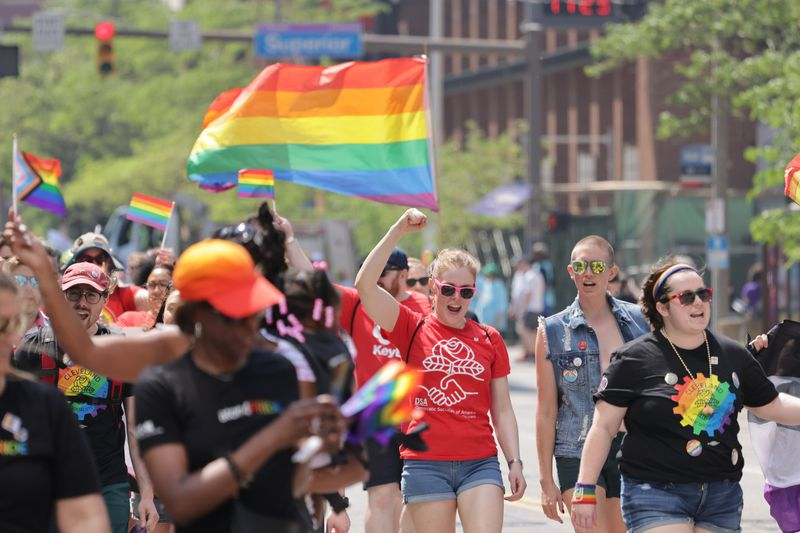 The relationship between LGBT representation and the greater whole of progressive politics has long been debated on the left. The truth will arise out of struggle and is not predetermined. SBWU offers up one answer, and the (largely queer-led) DSA another, compatible answer. The vast majority of queer people are workers. And as workers, there is no question of separating out one from another, of praising the trans manager who pays for treatments by pushing trans subordinates into medical debt. She has misunderstood her true interests, betrayed her community, and sided with people who cannot and will not protect her.
No matter how enthusiastically and sincerely corporations promote LGBT representation, it is only where this is a bottom up phenomenon that it may survive the 2020s. We have long been winning the battle in our culture, but the American public does not control the government, and there is no pretense of democracy in the American workplace. Any policies protecting the rights of gay Starbucks partners can be removed as easily as the Pride flags themselves, unless they are built on contracts that are themselves built on the power of the workers there to enforce them. Starbucks Workers United is an organization for all partners regardless of their sexuality, but whatever else it is, it does constitute a major uprising of queer workers in our country. Queer workers are fighting for their future, together with workers of all sorts, at companies across the continent. Win or lose we are learning how to fight back. Organizations like DSA help to carry this knowledge over to subsequent fights and give workers a political organization under their own control. Those many workers who do not join organizations like ours will still take their sense of solidarity and practical organizing skills to their next job, where regardless of their level of demoralization, the objective need for a union will eventually reassert itself. We should take heart: with capacity built from organizing campaigns in a store near you, we will not allow a bigoted minority of rich dicks to take our country back to the 1950s.
By Alek N, Cleveland DSA member
Special thanks to Koby P for reviewing my draft!
Want to support Starbucks workers? Please donate here, and join DSA's email and phone bank list to help with future strike support!
Notes
1: A decertification vote may take place when 30% of the workers sign cards requesting an election be re-run in a given bargaining unit, and can take place a year after a union election.