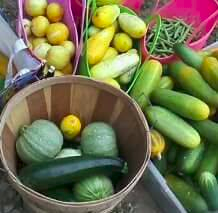 DSA CLE Volunteer Day – UpCycle Farm
W. 85th & Detroit
April 28th 1pm – 4:30pm
UpCycle Farm is a new urban agriculture endeavor in the heart of Cleveland Ohio–raising happy hens, growing fresh produce with an organic spirit, and building community.  Cleveland DSA will be meeting there on the 28th of April to do some volunteering in support of this endeavor.
If you sign up on this form we'll send you contact info so we can sync up that day.  Otherwise, feel free to just show up and let Mariah Hayden know you're representing DSA.
Event Agenda:
We will use the first hour for discussion before we get to work. Farmer Mariah will go over what we'll be doing for the farm, then talk about UpCycle Farm itself, community gardens, CSAs, how she got the land, and food waste, then end with Q&A.
We'll use the remainder of the time to work. One specific task will be to go out and plant seedlings. Mariah will be keeping an eye on the weather, and we'll have people working outside if possible.
It is recommended that people bring water. Gardeners gloves will be provided, or you can bring your own. If anyone has difficulty crouching or kneeling there are tasks that can be done while standing. Let us know if you have any disabilities in advance, and we will plan accordingly. There is always something for everyone to do!
Points of contact: David Brinovec and Tom Lacerda
If people are interested we'll do a dinner afterwards at Water Garden Cafe – 7646 Lorain Ave, Cleveland, OH 44102